Employer Response to COVID-19 & Social Distancing
In California, it is no longer "business as usual". In an effort to contain the spread of COVID-19, or the novel coronavirus, counties across the state have issued orders for residents to "shelter in place" or something similar. With movie theaters, gyms, schools, and restaurants (to name a few types of businesses) no longer operating in their usual capacity, many business owners and employees have questions about what is next. Some employers have already begun layoffs (more information about who qualifies for unemployment in California here) and many independent contractors, such as dog walkers and graphic artists, are finding that their job opportunities are diminishing by the minute.
So what can employers do to prepare for extended social distancing and remote work?  Read on for a few suggestions.
Employer Response to COVID-19
If you are a business owner in California, now is the time to quickly:
Examine your sick-leave and family-leave policies. With parents required to stay home and tend for children who cannot attend school, these employees may be requesting time off. How will you respond?

Consider what a domestic and/or international travel ban might do to your business.

Remind your employees — and yourself — to depend on only the most reliable sources for information about coronavirus. The WHO, the CDC and state and local health boards are reliable. Social media can be useful for keeping us connected during this time of social distancing, but may also be a source of misinformation.

Reiterate to stakeholders that situations like this are fluid and the information given out now may be preliminary and subject to change.

Be honest. Do not share information you cannot confirm to be accurate in an attempt to pacify employees, customers, or shareholders.
Provide updates. This includes to employees, customers, and individuals invested in the company.
This list is not exhaustive. Before you share information, whether internally or externally, run it by your employment law counsel.
Transparency and Authenticity
Remember that we live in a transparent society. Employees, customers, and other stakeholders will cross-check what you tell them against other sources. If you mislead them, especially during a time of great uncertainty, they will likely hold it against you. Now is the time to strengthen your customer base, not the opposite.
If you have questions or concerns about your business's response to various coronavirus concerns, we are here to help. Contact our experienced employment attorneys at Dennis Law Group today.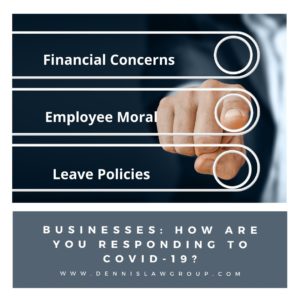 Sharing