Do I Qualify for Unemployment in California?
Many Californians are finding themselves in a position they never thought possible – unemployed. COVID-19, or the novel Coronavirus, has forced countless businesses throughout the state to temporarily close their doors and let go of employees, leaving these employees with serious concerns about where their next paycheck will come from and how they will pay their bills. One of the most common questions we've been asked in the recent days is: How do I know if I qualify for unemployment? Read on for the answer.
Do I Qualify for Unemployment?
In California, employees who are temporarily out of work through no fault of their own may qualify for unemployment. The state agency that handles unemployment benefits is called the Employment Development Department. The basic rules for collecting unemployment compensation in California include:
Your past earnings must meet certain minimum thresholds,
You must be unemployed through no fault of your own, as defined by California law, and
You must be able, available, and actively seeking work.
First, you will need to review your work history and earnings during a one-year base period to determine your eligibility for unemployment. Generally speaking, the base period is the earliest four of the five complete calendar quarters before you filed your claim for benefits. For example, if you file your claim in December of 2019, the base period could be from June 1, 2018, through July 31, 2019.
During the base period, your earnings must meet one of these two requirements:
You must have earned at least $1,300 in your highest paid quarter of the base period, or
You must have earned at least $900 in your highest paid quarter of the base period and at least 1.25 times your earnings in the highest paid quarter during the entire base period.
For an explanation of these requirements, speak with our experienced employment attorneys at one of our 3 California office locations.
AB5, Independent Contractors, Employees & Unemployment
Under AB5, the new California law that essentially eliminates the independent contractor in the California workplace, you may have been misclassified as an independent contractor when you are actually an employee and therefore eligible for unemployment benefits.
In most instances, we will use the ABC test to determine whether you are an employee or independent contractor, and we begin with the presumption that all workers in California are presumed to be employees. A California worker qualifies as an independent contractor (IC) only if he or she:
(A) is free from the control and direction of the hiring entity in connection with the performance of the work, both under the contract for the performance of the work and in fact, and
(B) performs work that is outside the usual course of the hiring entity's business, and
(C) is customarily engaged in an independently established trade, occupation, or business of the same nature as that involved in the work performed.
In non-legal terms, to be an IC in California, a worker must: be free from control + work outside the hiring firm's usual business + have an independent business.
Filing for Unemployment
If you believe you qualify for unemployment benefits in California, you will want to file an unemployment claim. For more on how to file for unemployment in California, click here.
Our employment attorneys are available for a free, no obligation consultation. To discuss whether you qualify for unemployment, contact the Dennis Law Group today.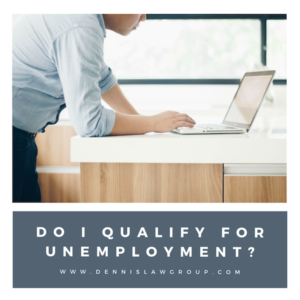 Sharing