How to File an Unemployment Claim in California
Like many Californians, you may have just received the shocking news that you have been let go from your job. The first thing you need to do, and quickly, is determine whether you qualify for unemployment benefits. Next, you will need to file your unemployment claim. You will want to file your claim within one week of losing your job.
According to California's Employment Development Department (EDD), Unemployment Insurance (UI) is an employer paid program that provides partial income replacement when you become unemployed or have your hours reduced, and you meet all eligibility requirements.  By using the EDD's UI Benefit Calculator, you are able to estimate your weekly benefit amount and give yourself some peace of mind. If you have any questions relating to your employment status or benefits, feel free to reach out to our experienced employment law attorneys.
When to File an Unemployment Claim
Time is of these essence when it comes to filing for unemployment benefits in California and waiting to file can delay your benefits. It is critical that you file your UI claim in the first week that you lose your job or have your hours reduced. Your claim begins on the Sunday of the week you submitted your application.
How to file an EDD Claim
In California, you can file for unemployment benefits via phone, fax, mail, or online.  Per the EDD's website, you will need to provide your personal information and your:
Last employer information including company name, supervisor's name, address (mailing and physical location) and phone number
Last date worked and the reason you are no longer working
Gross earnings in the last week you worked, beginning with Sunday and ending with your last day of work
Information on all employers you worked for during the past 18 months, including name, address (mailing and physical location), the dates of employment, gross wages earned, hours worked per week, hourly rate of pay, and the reason you are no longer working.
Notice to Federal Employees About Unemployment Insurance, Standard Form 8 (former federal employees only)
DD 214 Member 4 copy (ex-military only)
Citizenship status, and, if you are not a U.S. citizen, information from your employment authorization document
After Filing an EDD Claim
After you file your claim for unemployment benefits, the EDD will mail you important information regarding your claim, so keep an eye out. Also, it is important to note that most individuals are required to register for CalJOBS and create an online resume that can be viewed by employers within 21 days of receiving your Notice of Requirement to Register for Work (DE 8405) form. Failure to meet this requirement can result in a delay or loss of UI benefits.
Speaking with an Employment Attorney
If you have any questions about whether you qualify for unemployment in California, how to file, or what benefits you can expect, our lawyers are available for a free, no obligation consultation. To discuss your potential EDD claim, contact the employment attorneys at Dennis Law Group today.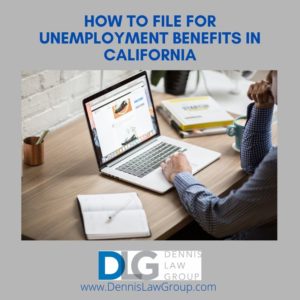 Sharing