Paid Time Off Amid COVID-19
Just yesterday, Governor Newsom issued an Executive Order informing Californians that, with limited exception, all persons living the in State of California have been ordered to stay home until further notice. This order does not apply to those people whose jobs fall within the federally defined "critical infrastructure" and the full list can be found here.
Not all businesses (think restaurants, day spas, salons, gyms, real estate offices, and more) are set up to allow their employees to "work from home" meaning these small, medium, and even large companies are having to close their doors. As a result, employees across the state are being laid off or given unclear instructions regarding their employment. With no one knowing when this Executive Order to stay home will be lifted, many employees are rightfully concerned about where their next pay check is coming from.
Coronavirus: How you can get paid if you're not working
Laid off or hours reduced. If you have lost your job through no fault of your own – that is, you weren't fired for cause or quit – you can file for unemployment benefits (learn how to file for unemployment in California here). This option also covers workers who have been furloughed or had their hours cut as well. If you believe you have been wrongfully terminated, you may be able to file a claim against your employer.
Additionally, Govenor Newsom announced that the standard one-week benefit gap will be waived if you lost work because of the pandemic. Effective immediately, he said, the benefits will be calculated for the period starting the day of the layoff.
What's more, California law requires that an employee who is laid-off must be given a final paycheck — including compensation for any unused paid time off — at the time of their termination.
Paid time off. In California, employers are not required to provide any paid vacation or paid time off (PTO) to their employees. If you have a vacation or paid time off policy, generally speaking, you may choose to take such leave and still be compensated. Under California law, your accrued vacation days are considered a form of wages that you have already earned. Among other things, this means that accrued vacation cannot expire and must be paid out to you, the employee, upon termination or separation from the employer. The same rules apply to PTO.
Exempt and non-exempt employees. Generally, if a non-exempt employee reports for their regularly scheduled shift but is sent home early, the employee must be compensated for at least two hours, or no more than four hours, of reporting time pay.
An employee is exempt if they are paid at least the minimum required salary, among other qualifications. Under federal law, employers are required to pay an exempt employee performing any work during a week their full weekly salary even if they do not work the full week if the employer failed to make work available. Does being sent home from work because of COVID-19 and California's stay home order apply? An experienced employment attorney will be able to discuss your situation with you in detail.
Taking Steps to Ensure You Are Paid
If you have questions or concerns regarding your employer's response to COVID-19 and your employment status, our employment lawyers are available to consult with you at no cost.
For a free, no obligation consultation, contact the California employment law attorneys at Dennis Law Group today.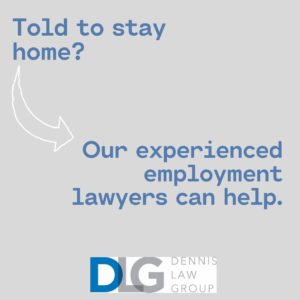 Sharing