The Importance of Hiring An Experienced Injury Attorney After a Catastrophic Accident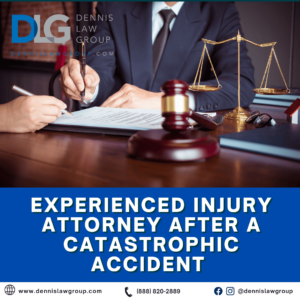 Catastrophic injuries can be life-changing. If you or a loved one suffered a catastrophic injury as the result of someone else's negligence, you may have a right to recover financial compensation.
Seeking the aid of an experienced Orange County trial attorney for catastrophic injuries is crucial for several reasons:
Advocacy and Expertise

: Orange County attorneys specializing in catastrophic injuries can provide crucial advocacy on behalf of the victims. They have the knowledge and expertise to navigate the complex legal procedures, ensuring that victims receive the maximum compensation they deserve.

Navigating Complex Legal Procedures

: The right accident attorney will understand the intricate legal processes involved in personal injury, medical malpractice, and product liability claims. They can guide victims and their families through the often challenging legal system, alleviating stress and confusion.

Fair Compensation

: A strong legal team will be key when it comes to negotiating with insurance companies and at-fault parties to secure fair compensation for catastrophic injuries. This compensation can cover medical expenses, rehabilitation costs, lost wages, and pain and suffering. 

Holding Liable Parties Accountable

: Skilled injury attorneys ensure that those responsible for catastrophic injuries are held accountable for their actions. By pursuing legal action, victims can seek justice and prevent similar incidents from happening to others in the future.
It's fair to say that catastrophic injuries can exact a devastating toll on individuals and their families, both in terms of physical and financial well-being. Fortunately, California offers avenues for legal assistance to help alleviate some of these burdens. Whether through personal injury claims, medical malpractice claims, or product liability claims, legal experts specializing in catastrophic injuries can provide the essential support and guidance needed throughout the legal process. 
If you or a loved one has suffered a catastrophic injury in California, it's imperative to promptly seek professional legal assistance to ensure the preservation of critical evidence, meet claim filing deadlines, and safeguard your rights. By comprehending the various legal avenues available in California, you can make informed decisions regarding the pursuit of compensation for your catastrophic injury, with the knowledge that an experienced attorney by your side can make a significant difference in securing the support and compensation you rightfully deserve. 
Don't face the challenges of catastrophic injuries alone. Reach out to a legal professional specializing in catastrophic injury cases today and take the first steps toward rebuilding your life.
Free consultations are available with Our Catastrophic Injury Lawyers in California
At Dennis Law Group, finding the right catastrophic injury lawyer is important to your success. 
You can find out whether you have a valid case at no cost to you. That's because we offer free consultations. To request a free consultation with our team, call (888) 820-2889 or visit https://www.dennislawgroup.com.